Iran (IMNA) - After a BRICS summit in Johannesburg, Lula said on his X (previously known as Twitter) page, "I met with Ebrahim Raeisi, the president of Iran, one of the countries that will join the BRICS as of 2024, for the first time."
Iran purchased over $4.3 billion worth of commodities in 2022, making it the top Middle Eastern consumer of Brazilian goods. Iran should be a significant trading partner for Brazil in the years to come.
Iran's top trading partner is Brazil. Among the items it sends to Iran are meat and animal feed, while the majority of its purchases are fertilizers, particularly urea provided by Iranian petrochemical firms.
Fakhreddin Amerian, who oversees the Iran-Brazil Joint Chamber of Commerce (IBJCC) and leads Iran's trade center in Brazil, stated in early June that Iran intends to treble its commerce with Brazil within a few years to reach an annual objective of $10 billion.
Outside of the 15th gathering of the BRICS group of developing countries in Johannesburg, South Africa, Raeisi and his Brazilian opposite number met.
The Brazilian president was re-elected, and the Iranian president congratulated him and expressed pleasure at the improvement of bilateral ties between Iran and Brazil.
Raeisi emphasized that despite harsh sanctions, the Islamic Republic has managed to promote science and technology, noting that US officials have admitted that Washington's so-called campaign of "maximum pressure" on Iran has fallen short of its objectives.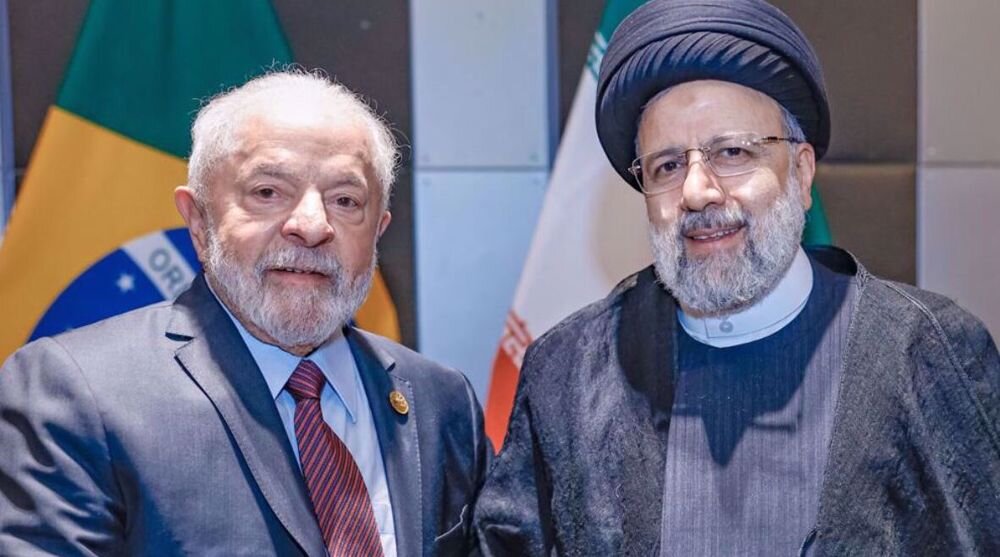 For his part, Lula congratulated Iran on joining BRICS and emphasized that there is much potential for member nations to deepen their relations and collaboration, including in the fields of science, technology, academics, and cultural concerns.
The president of Brazil referred to sanctions as "a criminal weapon against nations," claiming that they have an impact on the citizens of the affected states.
Additionally, Lula questioned the UN's present organizational setup, claiming it was powerless to stop certain countries from violating the rights of other states.
He emphasized the need to restructure current systems and said that the BRICS should be able to establish a new economic logic and a new global order.
Brazil, Russia, India, China, and South Africa, which together account for around 40% of the world's population and a quarter of its gross domestic product (GDP), are the founding members of the BRICS.
Iran was one of several countries that applied formally to join BRICS, and it was one of many that did so.