Iran (IMNA) - Amir-Abdollahian made the remarks in the closing ceremony of the BRICS summit, dubbed "Iran and BRICS: Prospects for Partnership and Cooperation", at the Foreign Ministry's Institute for Political and International Studies in the capital, Tehran, on Tuesday.
"The creation of BRICS is definitely a step forward in the relations between the emerging economies and the Global South," Amir-Abdollahian said, adding that the economic and political alliances in the developing world aim to strengthen their bargaining power during international negotiations, especially at the United Nations.
The top Iranian diplomat stressed that BRICS represents a powerful economic and political synergy with the potential to influence regional and global developments.
"It is the first time that a strong and effective politico-economic identity has been created in the developing world," Amir-Abdollahian said. "We believe that if the idea of BRICS expansion becomes a reality, this identity will become more coherent and global."
He added that the economic growth of BRICS has strengthened the self-confidence of the member states and increased the global confidence in its effectiveness.
The Iranian foreign minister emphasized that interaction with multilateral institutions has always been a key priority for the Islamic Republic.
Iran's efforts to expedite its membership in the Shanghai Cooperation Organization, deepen its relations with the Eurasian Economic Union to establish a free trade zone, and its request for BRICS membership all align with its commitment to a strong multilateralism policy, he said.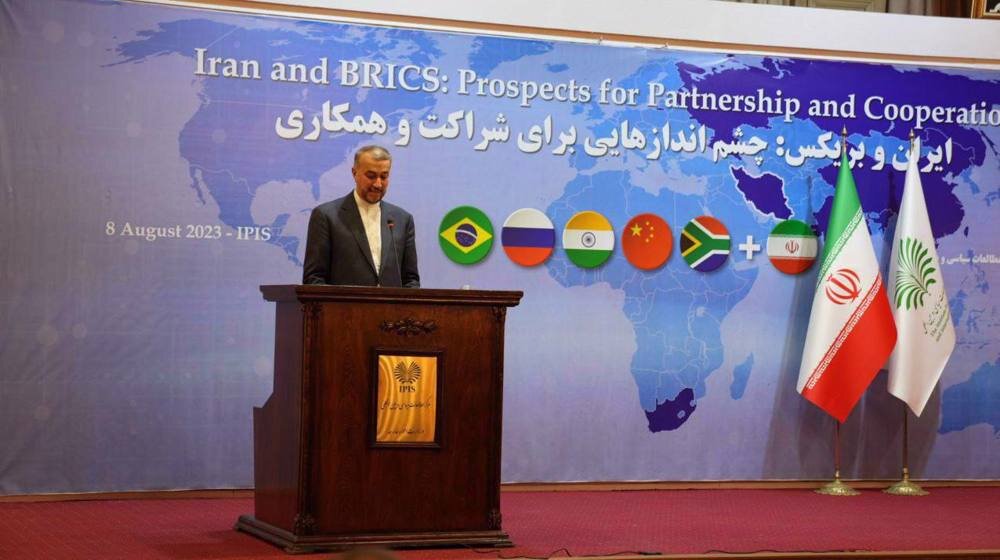 "Iran is a reliable and influential partner in bilateral and multilateral cooperation thanks to its strategic and unique geographical location, huge energy reserves, especially oil and gas, cheap and short transportation and transit network, young and expert manpower and modern scientific and technological achievements," he noted.
The foreign minister hailed the "favorable state"of Iran's political and economic relations with BRICS members, and underlined the need for all sides to further boost economic ties.
Pointing to the Islamic Republic's readiness to join the five-member group in a letter last June, Amir-Abdollahian said partnership between Iran and BRICS has practically started in some areas, including energy and transportation. "In the field of energy and ensuring lasting security, Iran is an absolute added value for BRICS and its future members," he said.
"The presence of Iran and such countries as Saudi Arabia, Iraq, the UAE and some other countries (as important holders of energy reserves in the world) along with BRICS and participation in the energy sector will strengthen the position of the economic bloc."
The BRICS group of fast-developing economies — Brazil, Russia, India, China, and South Africa — is often seen as an alternative to Western economic and political hegemony.
It accounts for 42 percent of the global population and about 26 percent of the world's economy, according to the South Africa-based Institute for Security Studies.
Iran is among dozens of countries that seek membership in the BRICS and has submitted a formal application to join the body.
---
Presstv