Iran (IMNA) - As the COVID-19 pandemic disrupted traditional learning environments, many schools started to enhance and design green outdoor environments. Increasing safe and accessible green spaces at schools not only directly boosts students' cognitive development, it brings a host of significant health benefits.
It is obvious that implementing greening projects at schools delivers enormous benefits to students. By designing school areas with greater purpose, city managers can reap these benefits to covey positive mental and physical health outcomes for students, as well as greater sustainability for schools.
"According to the memorandum of understanding signed with some school-building donors, green spaces will be added within and around 140 Isfahan's schools," The CEO of Isfahan Municipality's Parks and Green Space Organization said regarding the importance of making schools more green.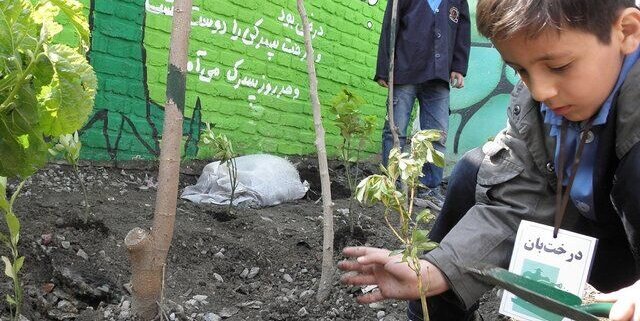 "Considering the lack of green spaces within Isfahan's schools, it was decided to develop green spaces while constructing schools," Majid Erfanmanesh said during a meeting with school-building donors.
He went on to say that planting flowers and providing greenery environment have been carried out in a number of schools in the past, and continued, "Based on value-based prioritization, planting flowers and providing green areas will be done in 140 schools of Isfahan city at the expense of Isfahan Municipality's Parks and Green Space Organization."
The CEO of Isfahan Municipal Parks and Green Space Organization noted, "with an eye to develop green spaces, this organization has signed a memorandum of understanding with various departments such as Isfahan's Municipal University of Applied Sciences & Technology, Agricultural Research Center, and Iranian Research Institute of Plant Protection to provide the green services."