Iran (IMNA) - Later, they were roofed and changed into the forms we see today in some parts of the world. Bazaars can be seen in almost all of old cities and towns of Iran. Most of them are still in function. For shopping lovers looking for the best products and the best deals and travelers who seek to see the daily life of folks, navigating Tehran, presents some sizable challenges. From food markets to touristy goods and souvenirs, from bargain antiques to everyday items, Tehran has a bazaar for all your needs, if you just know where to go. Two of the most important bazaars in Tehran (Tehran bazaar) are the grand bazaar (almost in the south) and the bazaar of Tajrish (almost in the north). You can find quite different moods and atmosphere in these two places. But what do they both have in common? Crowd
The Grand Bazaar
Tehran Grand Bazaar is not only the city's biggest, but it's also the largest bazaar in the world. While the bazaars in some Middle east or African countries are very touristy, well adorned and exotic, with beautiful decorative artifacts, the Grand Bazaar is more down to earth, and is a true huge local market, where locals trade gold, paper, food, copper and everything else. Historic, expansive, and crazy Tehran's Grand Bazaar is all about bargaining. It consists of more than 10 kilometers of flexuous covered alleys, which will confuse you definitely. The nearly endless maze that form the bazaar is the perfect place to get lost. Here the more you walk around, the more you have to walk. But there is nothing to be worried about, because you will always find a helpful local to explain you how to get somewhere or who will even walk you to the next exit, just out of pure helpfulness. It is divided up into sections selling different types of every imaginable product; of particular note are the jewelry and carpet sections. The atmosphere shows you Iranian market life immediately. There are plenty of tea-houses and restaurants around and inside Bazaar.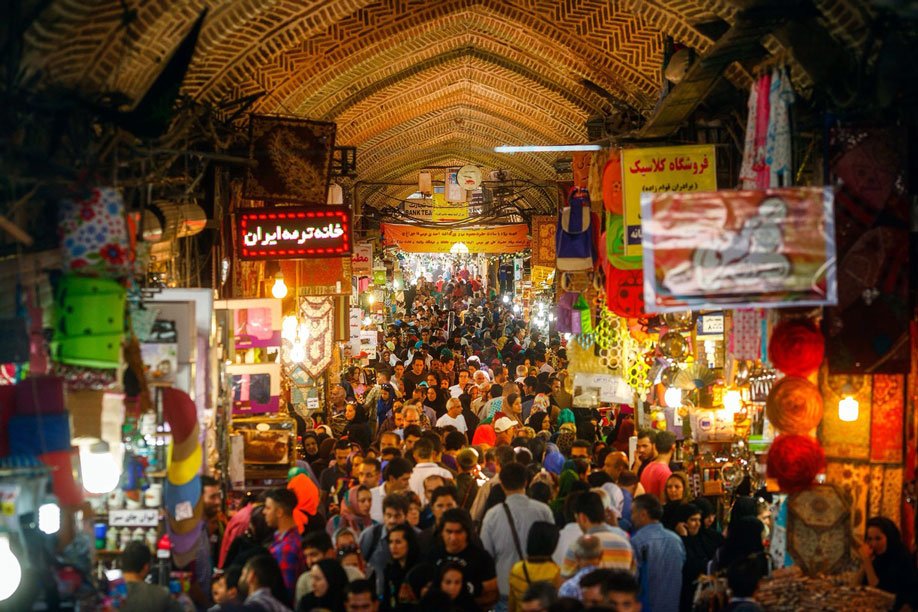 Tajrish Bazaar
The Tajrish bazaar, in the northern parts of Tehran, is one of the oldest areas of Tehran, and is close to Emamzadeh Saleh Mausoleum as well as Velenjak, Darband and Darakeh mountain resorts. The name Tajrish is driven from the language of Tat which was the official language of Shemiran before choosing Tehran as the capital. It was built according to architectural styles of other traditional bazaars in Tehran.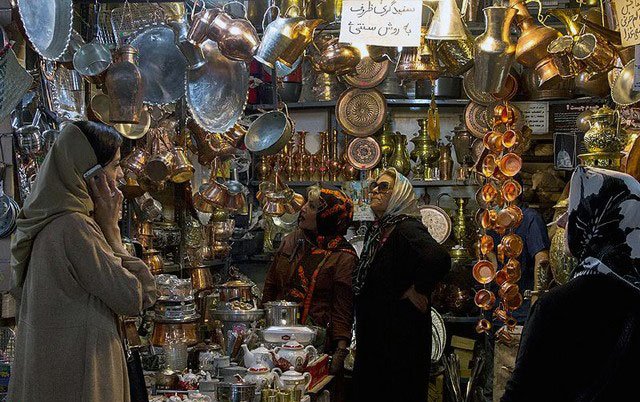 Usually, travelers will find it more tourist-friendly and aesthetically pleasing than the central Grand Bazaar. It is a great venue for a spot of afternoon shopping, relaxing, drinking a coffee and enjoying the weather and the view of mountains. Boasting a vibrant central section selling fresh fruit and vegetables, as well as traditional Iranian sweets, the other alleyways of the bazaar peddle everyday items alongside traditional crafts and touristy goods. The Bazaar backs onto the picturesque Imamzadeh Saleh shrine, a popular local pilgrimage site, and also houses an excellent value kebab restaurants and teahouses.
An interesting point about this market is the name of each store which is carved on the stores' façade by tiles that has made a beautiful appearance to the market. The bazaar is covered and has many passage ways leading to different sections where you can purchase goods. Spices, dairy, clothes, fabrics, nuts & dried fruits, traditional cookware, fruits, veggies and … can be found in Tajrish Bazaar . Among all these stuff, the fruit & vegetable market is one of the most popular attractions of the bazaar.
The beautiful historical Emamzadeh Saleh shrine is located adjacent to the bazaar, with access from inside. At the entrance to the shrine, people hand out sweets and dates to seek peace for their gone beloved ones.
Source:hitehranhostel