As relations with the West continue to improve, there's no better time to visit the country which boasts 19 UNESCO World Heritage Sites, the most exquisite architecture in the Islamic world and awe-inspiring landscapes. It is also home to one of the most sophisticated cuisines in the world as I discovered when I travelled 3000km through its rugged terrain armed with just a notebook and a bottle of pomegranate molasses, collecting stories and recipes for my cookbook, The Saffron Tales. Here are my tips for where to sample the best of Persian cuisine.
1. Tuck into some Chelo Kebab in Tehran
Succulent pieces of lamb or chicken kebabs cooked over charcoal and piled high onto mounds of buttery rice are one of the cornerstones of Iranian cuisine. Chelo Kebab is found on practically every street corner and restaurant in Iran. For a high-end version, visit Shandiz restaurant in Tehran. Their grilled lamb chops topped with tangy sumac are unmatched for richness and flavor.
2. Step back in time over Aash-e Reshte in Isfahan
Soups are an intrinsic part of Persian cuisine, so much so that the Farsi word for cook is aashpaz, which means "soup-maker." Aash-e Reshte is a hearty soup packed with legumes, fresh herbs and noodles and is often served with a generous drizzle of kashk, an umami flavoured fermented whey which tastes somewhere in between parmesan and goat's cheese. My favourite place to eat it is amid the blossoming trees and trickling fountains of the walled garden of the Abbasi Hotel in Isfahan, a 300-year-old former roadside inn which is reportedly the world's oldest hotel.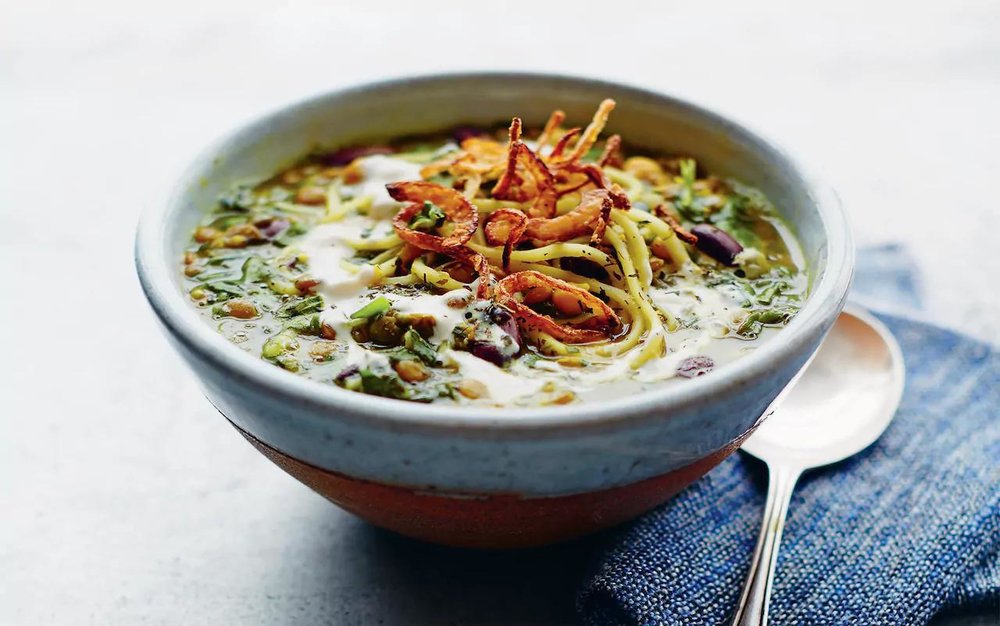 3. Get Dizi with it in Mashad
This rustic lamb, chickpea and potato stew is slow-cooked in a clay pot over a fire for several hours until the meat is so tender you can mash it into a paste with your fork. It is said to have originated in the city of Mashad, home to the shrine of Imam Reza, the eighth Shia Imam and one of the holiest pilgrimage sites of Shia Islam. Small cafés and restaurants all over town cook dizi for lunch and dinner and serve it warm flatbreads that you shred into small pieces at the table and place in your clay pot to soak up the meaty broth.
4. Stop to smell the roses in Isfahan's Kashan
The rose is indigenous to Iran and the country was the first place in the world to distil its petals to make rose water over 2,500 years ago. Each spring, the town of Kashan has an annual rose festival where you can watch rosewater being made, from the harvesting of the flowers, to the steaming of the petals. During the festival the whole town erupts in a cacophony of colour and scent and there is nothing better than taking a moment to rest in shade of the afternoon sun with a bowl of faloodeh, a sweet and tangy sorbet made with rosewater, rice vermicelli and lime juice.
5. Embrace the goodness of greens in Talesh
The lush green forests and rice paddies of Talesh, near the Caspian Sea are home to some of the most striking natural beauty in Iran and in spring and summer, Iranians flock here for hiking and camping holidays. The food of the region is as green as its landscapes, packed with herbs which adorn every meal. Torshe-Tareh is a signature dish, a tangy emerald green stew made with several kilos of spinach, dill, parsley, coriander and chives, sharpened with limes and served with poached eggs stirred through it.
6. Indulge your sweet tooth in Yazd
The enchanting city of Yazd is a historic mudbrick town on a plateau between the country's two largest deserts. It is famous for its badgirs (wind catchers), ancient Zoroastrian temples and glorious selection of bite-sized pastries known as Shirini Yazdi (Yazdi sweets). Patisseries throughout the city stock an assortment of these sugary treats, from almond baklavas, to cupcakes made cardamom and pistachios and ghotab, a local delicacy of deep fried doughnuts filled with ground almonds.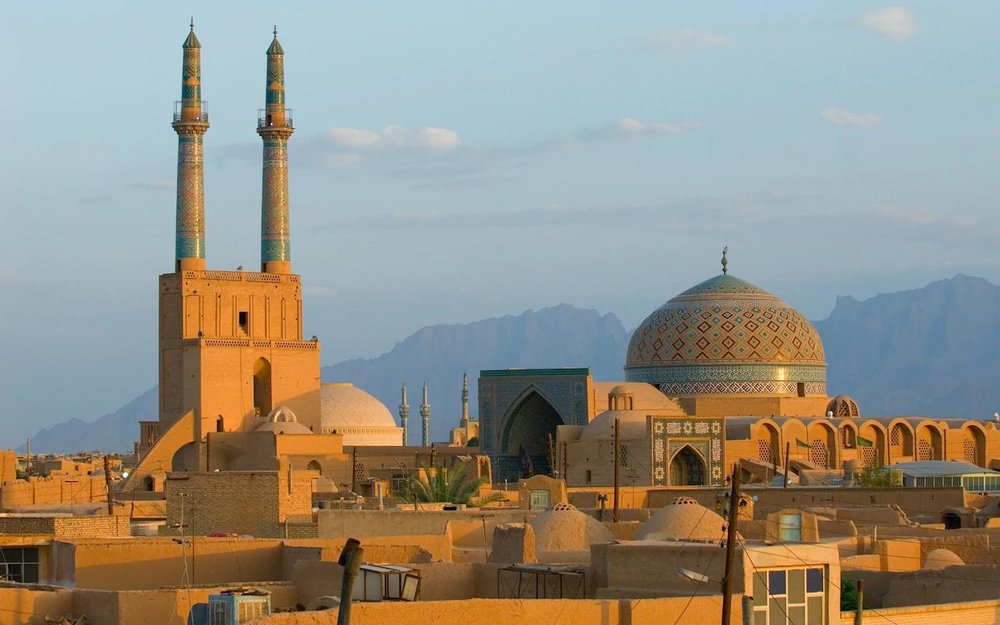 7. Crack open a Tahchin rice cake in Shiraz
Tahdig, the crunchy, buttery rice crust that forms at the bottom of the pot that rice is cooked in is prized in Iran and tahchin is a dish that encapsulates everything that is great about it. Rice is first mixed with yoghurt, egg yolks and saffron and then layered with spiced chicken or lamb and baked until its forms a golden crust. The dish is then turned upside down and served like a cake, from which you cut yourself a very generous slice. Tahchin is found in restaurants throughout the city of Shiraz, where it considered something of a speciality.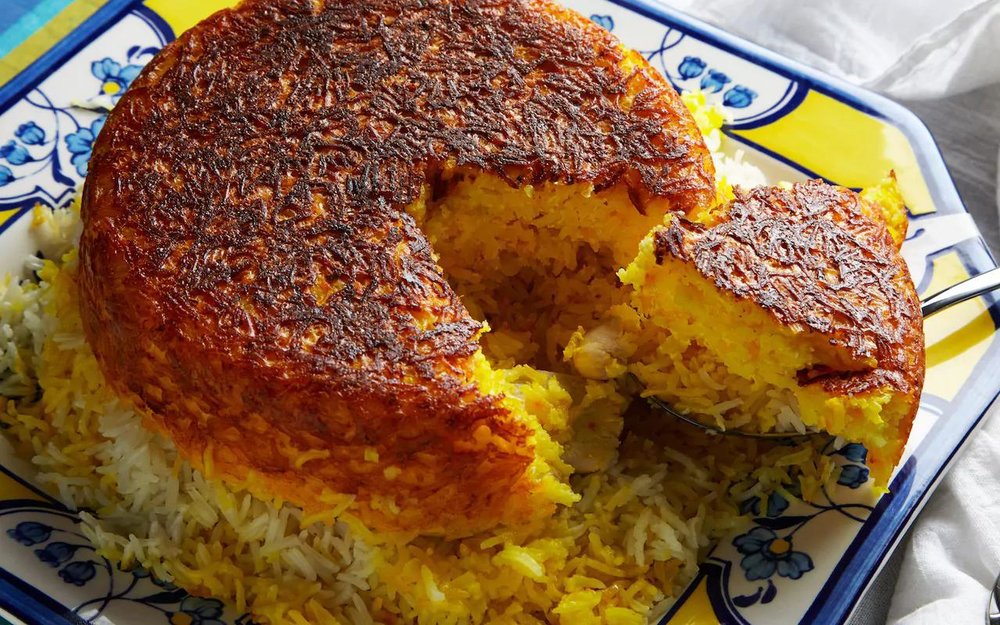 8. Meatball madness in Tabriz
Iranians love a good meatball and the city of Tabriz in the north west of the country is the best place to sample them. Here you can find an array of lamb meatballs stuffed with prunes, sour cherries, walnuts, barberries, raisins or boiled eggs in various delicious combinations. The most famous meatball of them all, Kofte Tabrizi bears the namesake of the city and has some resemblance to a large scotch egg, albeit one in a saffron and tomato sauce.
9. Sample some spicy seafood in Bandar Abbas
The food of southern Iran is hot and spicy, just like its climate and is influenced by the region's position as one of the stopping points on the maritime spice trade route between India and Europe. The port town of Bandar Abbas is the best place to sample Ghalyieh Maygoo – a sharp and spicy stew made with generous handfuls of fresh coriander, tamarind, red chilli, garlic and prawns. Restaurants next to the central fish market are the best place to eat it as they serve fresh local catches of the day.
10. Feast on Mirzeh Ghasemi in Masuleh
A visit to the thousand-year-old village of Masuleh, set in the foothills of Gilan, takes one back in time to the traditions of rural Iran and the simple agrarian life that used to dominate most of the country. It is also one of the best places to sample Iran's vegetarian cuisine, most notably the dish mirzeh ghasemi, a regional speciality of smoky aubergines, burnt over hot coals and then gently fried with tender young garlic, plump tomatoes and plenty of local olive oil.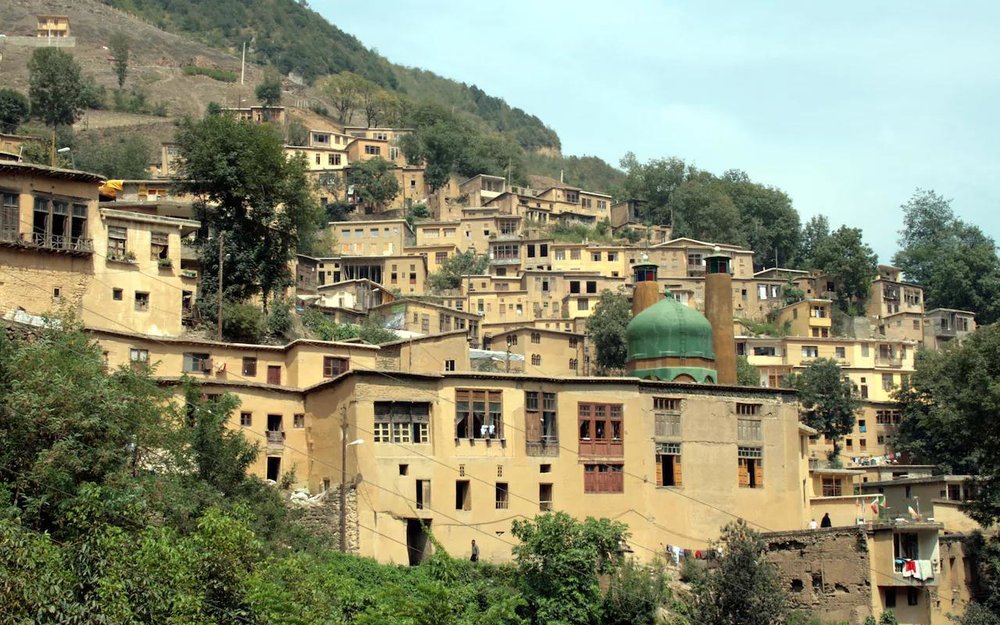 By Yasmin Khan