Hassan Shafie in an interview with IMNA reporter declared that this complex is composed of 33 aquariums of 5 to 10 meters which makes an area of 35 meters underwater. The whole underwater area contains 1080 cubic meters water in itself. Citizens can watch the rarest species of sea animals above their heads, experiencing the ocean-like atmosphere.
Referring to the special discount for Sunday visits to the aquarium, the organizing manager explained: the admission is $4 for adults and $3 for children.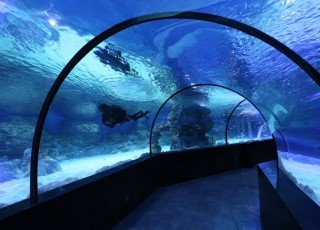 "This unique complex keeps various species of poisonous, semi-poisonous, non-poisonous reptiles including snakes, crocodiles, alligators, etc.", Shafie explained, and assured that visitors will be excited by exposing themselves to this wide range of sea animals.