Papier-mâché has been defined as the art of making boxes, Qalamdan (pen box), frames, mirrors, and other decorative objects with compressed cardboard or pulp.
Iran (IMNA) - In this technique, the layers of paper and glue are turned into a soft paste that can be formed and harden after being dried up.
Although Papier Mache art originated in Asia, it has been widely used in making reliefs and small religious sculptures in Europe since the 15th century.
Papier-mâché is a French word that replaced the word "oil painting" or "lacquer painting" during the Safavid era. This style of painting on cardboard is being practiced in some Indian, Iranian, and Chinese traditional arts. This art further flourished in Iran in the late 11th century by emerging the lacquered papier mâché pen cases called Qalamdan.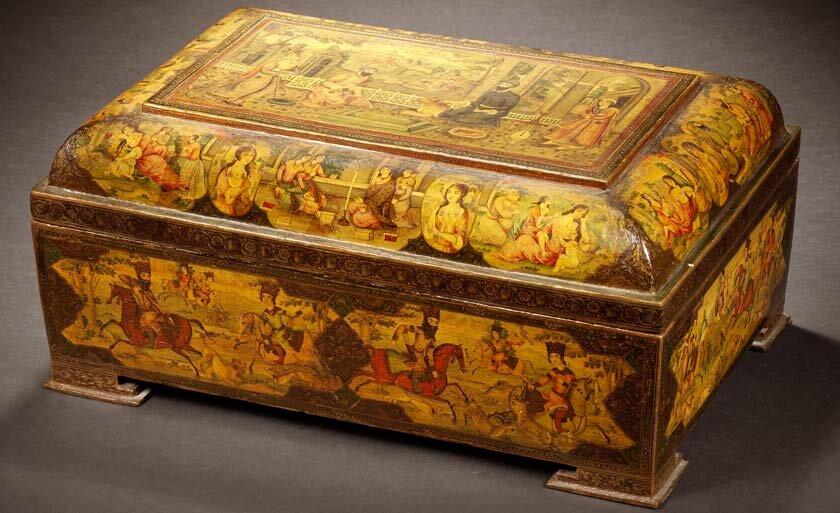 Through this artistic style, paper paste or layers of paper impregnated with pre-made adhesive, and wooden molds are used to make strong frames to be painted with watercolor. First, the pieces of cardboard or newspaper are soaked in water for a few hours, after taking the extra water with a strainer, the glue is added, and then the structure pounded until a grayish-brown paste is achieved. Matching with the desired shape, the prepared paste is rolled step by step on a wooden mold which has already been covered with greaseproof paper.
In the past, soap was used to facilitate the molding process. After each step, we should wait until the layers partially getting dried up, then the remaining layers of paste will be added to reach the desired thickness. Following the completion of these steps, the overlays are pounded and polished with a piece of bone or smooth wood, and the work is covered with a layer of tragacanth glaze for further engraving.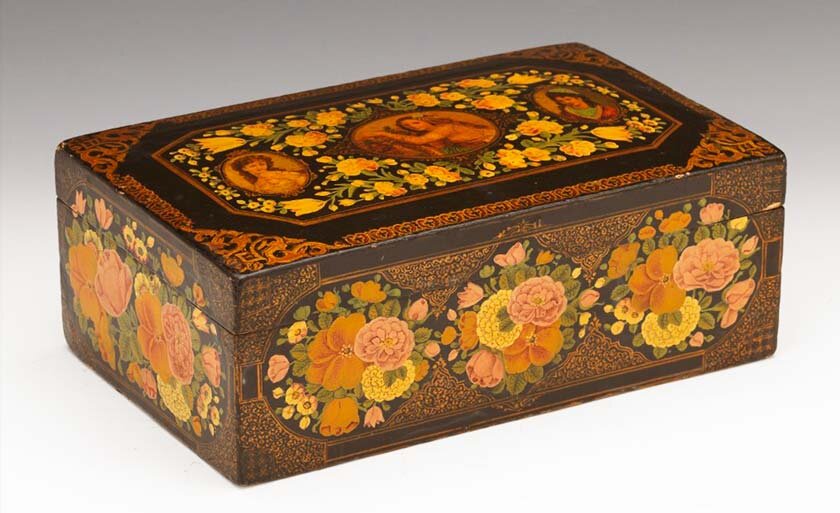 The colors used in Papier-mâché are often water-soluble ones that are applied with a brush accompanied with gilding and painting techniques.
At the final stage, the painted surface is coated with a thick layer of Kaman lubricant- a mixture of linseed and polishing oils- two or three times; this step is absolutely essential to maintain color visibility and structural stability. Exquisite book covers, mirror frames, cosmetic boxes, jewelry cases with rectangular, hexagonal, circular, and oval shapes, and first and foremost Qalamdans are made through this technique.
In fact, making lacquer Qalamdans is one of the most important products of Papier-mâché art technique.