Iran (IMNA) - Let's get into 8 of the greatest historical sites you have to see when you visit Barcelona.
1. Sagrada Familia
If it's your first time visiting Barcelona, you cannot miss the Sagrada Familia.
This architectural wonder is one of Antonin Gaudi?'s masterpieces. It's also one of the most famous cathedrals in the world.
An interesting fact: this cathedral has been under construction since 1882. In fact, it won't be complete until 2026 at the earliest!
Unlike most other cathedrals, the Sagrada Familia is unique. It is bright and spacious and will leave you awe-struck.
Even the locals are queuing up to see it time and time again. Make sure you get there early to beat the rush!
2. Arc de Triomf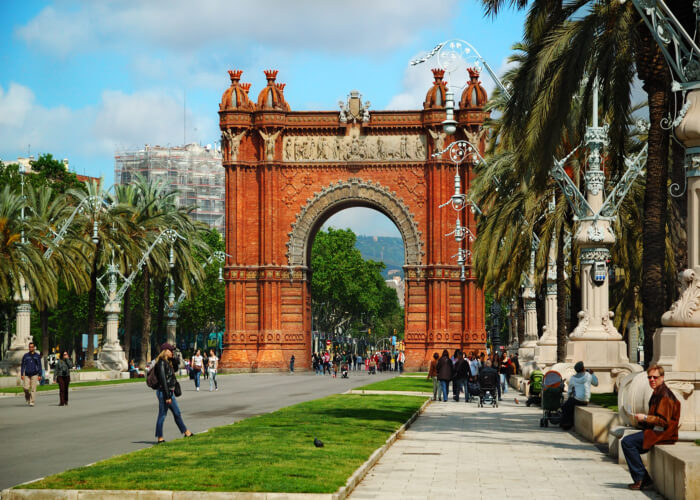 The Arc de Triomf is a gigantic arch which served as the main gateway to the city.
They built it in 1888 for the Universal Barcelona Exposition in the Neo-Mudejar style. Josep Reynes was the architect who designed it.
You'll find this architectural wonder at the end of Park Ciutadela. It serves as a green haven in the city, so pack a picnic and enjoy!
3. Park Guell
This UNESCO World Heritage Site is another one of Gaudi's famous works. It's a perfect place to come on a sunny day, of which Barcelona has plenty.
This park is more of a hillside garden, and it tucked away in the suburbs of Barcelona.
When Gaudi builds it, he created a fairytale land which symbolizes Barcelona as a city.
To get to the park you have to walk 900m uphill, so bring some water and make sure you're prepared!
4. Barrio Gotico
Barrio Gotico, or the Gothic Quarter, is a special area of Barcelona.
The narrow streets and beautiful architecture feel like you've traveled back in time.
It is home to some of the most well-preserved Medieval architecture in Europe. There's so much to explore that it would be easy to spend a whole day wandering around this area.
A walking tour is the best way to see the Gothic Quarter. Guides can show you hidden spots and tell you stories you might never have found on your own.
5. Las Ramblas
Las Ramblas invites you to 'ramble' around the streets and see what's on offer.
It's one of the most famous streets in the city. It beings at Plaza Catalunya and ends at the Columbus monument at the Port Vell marina.
There's a lot to see and do when you come to Las Ramblas. The Columbus Monument is the main draw, as well as the La Boqueria market. But, the street itself has amazing bars and restaurants to visit too.
The La Boqueria Market has everything. From fresh fruit and veg, fresh fish, and tasty tapas. As the locals say, if you can't find it here, you won't find it anywhere.
If you make your way to Las Ramblas at night, be cautious. It's a pretty safe place, but keep your valuables safe. Don't be the tourist with a camera around your neck. Pickpockets like to come here to see what they can grab, so be on guard and you should be fine.

6. Poble Espanyol
The Poble Espanyol, or Spanish Village, is a great place to spend a day in Barcelona.
They made this for the 1929 Universal Exhibition. It was a place to showcase the best of Spanish architecture.
Each street represents different regions of Spain and their differing architectural styles.
There are a lot of stores to buy items from all different regions of Spain. in fact, there are over 20 artisans from each region who work here.
You'll find objects like ceramics, textiles, and jewelry here. If you're there for the food, you'll also find amazing bread, oils, cheeses, and meats. Yummy!
7. L'Eixample
L'Eixample is one of the most iconic areas of Barcelona. Its grid-like layout is what makes Barcelona into what it is today.
Today, it has a diverse range of restaurants, shopping, and nightlife. But back in the day, it was very different.
When the Industrial Revolution came to Barcelona, the population grew a lot. The city spilled out into the neighboring villages, and living conditions were unsanitary.
To cope with this, the government launched a public competition to help solve the problem. Ildefons Cerda, a civil engineer, won the competition and made Barcelona into what it is today.
Many of the houses here date back to the 19th and early 20th centuries and it is a gorgeous place to wander along.
8. Hospital de Sant Pau
Built in the early 1990s and designed by, you guessed it, Gaudi.
It has earned the nickname 'The Stone Quarry' due to the beautifully sculpted stone facade. It's considered to be the largest abstract sculpture in the world.
Founded in 1401, it's purpose was to be a hospital. Now, you can take a tour of what the place looked like as a hospital in the 1920s.
Today, the building wears many hats. Up until 2009, it was still used as a hospital, but now it's an art school and the National Library of Catalonia.
---