Watch the related photo series HERE.
Behzad Bozorgzad is quoted by IMNA reporter: people satisfaction was 72% with the firefighting organization in 2015, while the number raised to 81% in the following year, 2016, he made the remarks on the occasion of the upcoming Firefighters' Day, September 29th.
He added: cities are most subjected to car accidents rather than suburban areas. The total deaths caused by road accidents in 2016 had a 25% drop compared to the year before, while survivors had a 19% increase in number.
Bozorgzad also confirmed that the average response time to urban areas is 4 minutes and 11 seconds, and for the suburban areas 10 minutes and 23 seconds.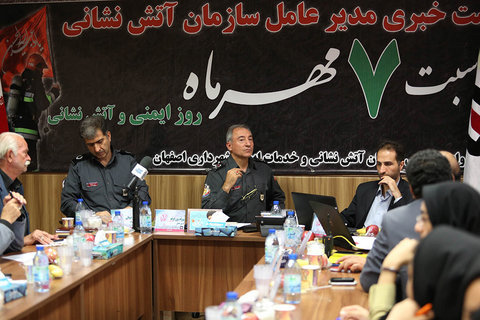 Fire engines are placed at 10 spots of the city
The official declared: fire engines are placed in 10 scattered areas of the city in order not to get stuck in heavy traffic at emergency times.
The total number of fire personnel was 624 for Isfahan Fire Department in 2016, Bozorgzad emphasized and continued: we have also gained the certificate for recruiting 100 more.
He based his talks on the famous Mazlo Pyramid, saying: human physiological needs such as food and accommodation must be provided first to move toward devotion and selflessness; so firefighters are highly qualified to be paid countlessly since they are dedicating their life.
Isfahan be equipped with latest fire technologies nationwide
Reminding Plasco fire disaster in Tehran, the official warned that there exist a number of similar departments in Chahar-Bagh Ave. in Isfahan which have been frequently observed and alarmed. "So, hotels are urged to gain the required certificates to add to their stars", he announced.
"Isfahan Fire Department has purchased a 40-meter-high fire truck ladder from a German Co.", he explained hopefully.
Regarding the effective role of women, the fire chief stressed: we seek for the major presence of women in the field, and over 1000 women have been trained for the job up to the present day.
Watch the related photo series HERE.